ORCHARD
La Distillerie des Ambres
Respecting the earth and the fruit
Constantly tended and renewed according to the needs of the earth and the fruit, Françoise's orchards have grown and blossomed here for decades. Since 2018, the 34 hectares of apple orchards at the Distillerie des Ambres have been fully certified as an organic farm. From Victot-Pontfol to Cambremer, from Notre-Dame d'Estrées to Saint-Pair du Mont, these sit at the very heart of the protected Pays d'Auge Calvados appellation. Here, the chalky clay soil and the mild, wet Norman climate offer the perfect conditions for the wide variety of cider apples authorised for use in this spirit. These vast meadows, where grass protects the soil, the biodiversity and the apples which fall from the trees, provide the space that each tree needs to grow and develop.

The Distillerie des Ambres' orchards are planted with high-branching trees, which offer greater biological diversity and an excellent yield after a decade or so of growth. It's as the old saying goes : « Twenty years to grow, twenty years to fruit, twenty years to go. »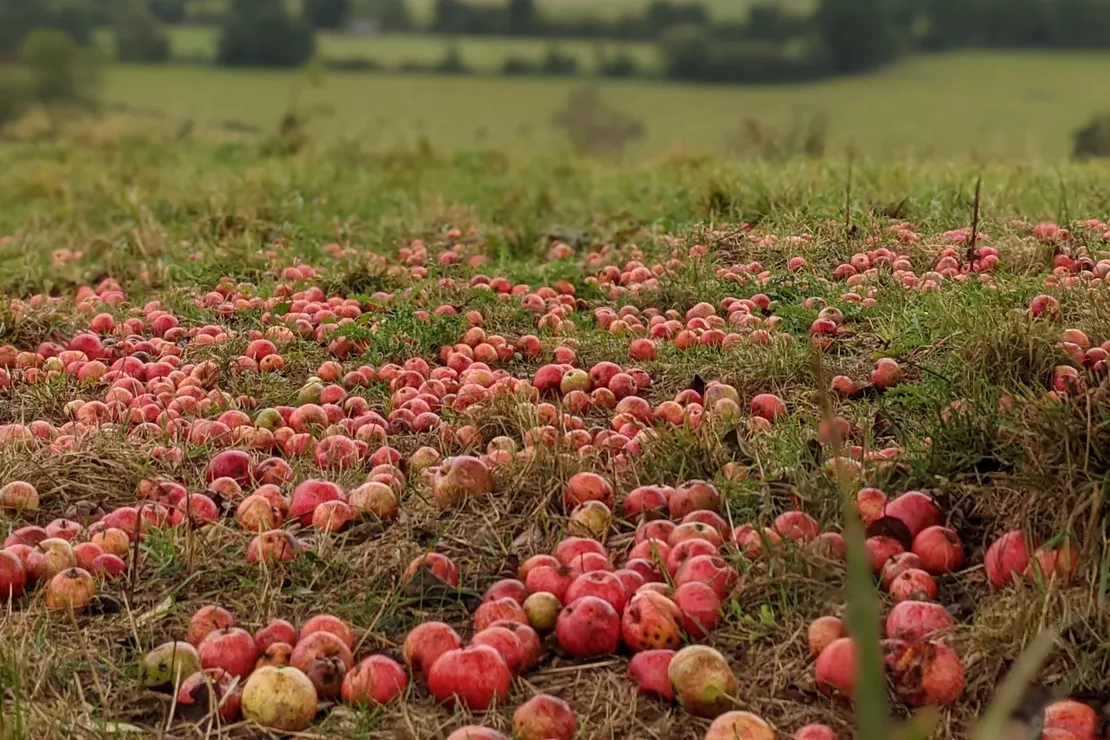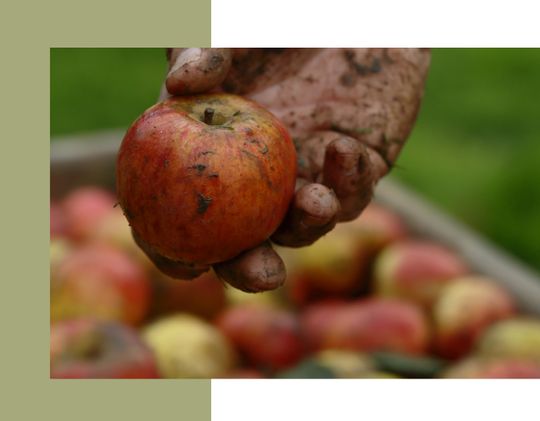 THE APPLES
Cultivating diversity
It all begins in the orchard: the quality of the spirits, the wealth and diversity of their colours, their forms and, above all, their aromas depend on carefully dosing the diverse varieties of apples and achieving the perfect blend when crafting the cider.

The Distillerie des Ambres explores this diversity by combining some forty Pays d'Auge apple varieties, each adapted to organic farming and each falling into one of the four main categories, according to the tannin and acidity levels in their juice :

« Love your apple trees, exult them and all will be well.
Wheat and clover may grow en masse, but trees can only be grown one by one. »

_
Alfred Piquot, farmer and landowner, 1885
sweet, like Bisquet or Rouge Duret; sweet and aromatic, these bring roundness and generosity to the cider.
bittersweet, such as Noël des Champs or Saint-Martin; these have low tannin levels, but enough sugar density to ensure a good level of alcohol.
bittersharp, such as Domaine or Frequin Rouge; high in tannin, these give body and colour to the cider
sharp, like Rambault or Avrolles; low in tannins, they bring freshness and a specific, slightly astringent flavour.
Each of the Distillerie des Ambres' orchards is planted with several different varieties from these four categories, selected according to three criteria: their pollinating qualities, their ripening time and the proportions needed for cider as required by the appellation: 70% sweet and bittersweet, 15% to 20% bittersharp and 10% to 15% sharp apples.